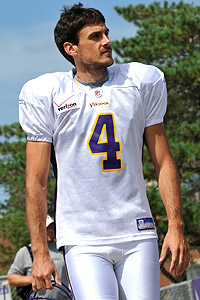 Baltimore Ravens linebacker Brendon Ayanbadejo has spoken out in favor of a Maryland ballot initiative that would legalize gay marriage. Yahoo has published a letter that Maryland state delegate Emmett C. Burns Jr. wrote last week to Ravens owner Steve Bisciotti, urging him to "inhibit such expressions from your employee." This is Minnesota Vikings punter Chris Kluwe's response to Burns.
(Click through for the whole article - I've edited the letter down here!)
1. By using your position as an elected official (when referring to your constituents so as to implicitly threaten the Ravens organization) to state that the Ravens should "inhibit such expressions from your employees," more specifically Brendon Ayanbadejo, not only are you clearly violating the First Amendment, you also come across as a narcissistic fromunda stain.
2. "Many of your fans are opposed to such a view and feel it has no place in a sport that is strictly for pride, entertainment, and excitement." Holy fucking shitballs. Did you seriously just say that,
3. Why do you hate the fact that other people want a chance to live their lives and be happy, even though they may believe in something different than you, or act different than you?
I can assure you that gay people getting married will have zero effect on your life. They won't magically turn you into a lustful cockmonster. They won't even overthrow the government because all of a sudden they have the same legal rights as the other 90 percent of our population—rights like Social Security benefits, child care tax credits, Family and Medical Leave to take care of loved ones, and COBRA healthcare for spouses and children. You know what having these rights will make gays? Full-fledged American citizens just like everyone else, with the freedom to pursue happiness and all that entails.
I hope this letter, in some small way, causes you to reflect upon the magnitude of the colossal foot in mouth clusterfuck you so brazenly unleashed on a man whose only crime was speaking out for something he believed in. Best of luck in the next election; I'm fairly certain you might need it.