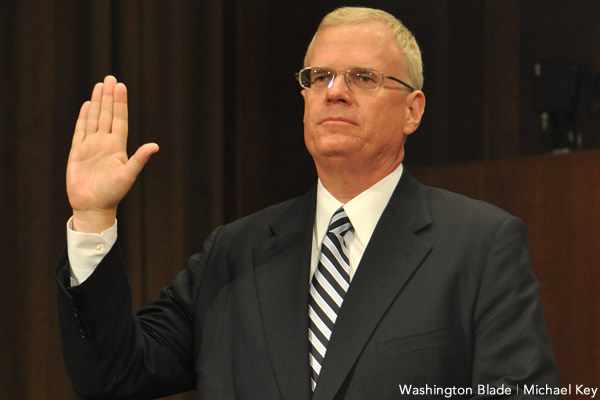 A fourth openly gay nominee—one who has been fairly heavily involved in both gay and non-gay legal and political issues and who spent "hundreds of hours" doing pro bono work that led to the elimination of a gay ban on FBI agents—has gone before the U.S. Senate Judiciary Committee. The nominee's gay-related history prompted the only Republican in attendance on his confirmation hearing to label the nominee an "activist."
"I am honored to nominate Michael Walter Fitzgerald to the United States District Court," Obama said in a statement. "His impressive career stands as a testament to his formidable intellect and integrity. I am confident he will serve the people of California with distinction on the District Court bench."


Obama has nominated more female, African American, Hispanic, Asian American, Native American and openly gay candidates as federal judges than Presidents George W. Bush, Bill Clinton, and George H.W. Bush. That includes two female Supreme Court justices, one of whom is the high court's only Hispanic justice.
The numbers are particularly striking for Asian-American nominees. Obama has nominated half of the Asian-American federal judges currently on the bench.
After being nominated July 2012 The Senate confirmed Michael W. Fitzgerald as a federal trial judge for the region stretching from San Luis Obispo to Orange counties in California
You can read more about Judge McShane in a bio published by Mike Bloom of the Multnomah Bar Association.
SO HAPPY ABOUT THIS! (and he went to school right here in Portland, Or.!)