Proposition 37, a Mandatory Labeling of Genetically Engineered Food Initiative, was on the November 6, 2012 ballot in California as an initiated state statute, where it was defeated.
Monsanto $8,112,867
E.I. Dupont De Nemours & Co. $5,400,000
Pepsico, Inc. $2,145,400
Grocery Manufacturers Association $2,002,000
DOW Agrisciences $2,000,000
Bayer Cropscience $2,000,000
BASF Plant Science $2,000,000
Syngenta Corporation $2,000,000
Kraft Foods Global $1,950,500
Coca-Cola North America $1,700,500
Nestle USA $1,315,600
Conagra Foods $1,176,700
General Mills $1,135,300
Kellogg Company $790,000
Smithfield Foods $683,900
Del Monte Foods $674,100
Campbell's Soup $500,000
Heinz Foods $500,000
Hershey Company $493,900
The J.M. Smucker Company $485,000
Bimbo Bakeries $422,900
Ocean Spray Cranberries $387,100
Mars Food North America $376,650
Council for Biotechnology Information $375,000
Hormel Foods $374,300
Unilever $372,100
Bumble Bee Foods $368,500
Sara Lee $343,600
Kraft Food Group $304,500
Pinnacle Foods $266,100
Dean Foods Company $253,950
Biotechnology Industry Organization $252,000
Bunge North America $248,600
McCormick & Company $248,200
Wm. Wrigley Jr. Company $237,664
Abbott Nutrition $234,500
Cargill, Inc. $226,846
Rich Products Corporation $225,537
Flowers Foods $182,000
Dole Packaged Foods $171,261
Knouse Foods Cooperative $164,731
Other food companies who contributed to the "no" campaign (but with checks of less than $150,000) included Sunny Delight Beverages, McCain Foods, Tree Top, Idahoan Foods, Richelieu Foods, Land O'Lakes, Hillshire Brands, Morton Salt, Clorox, Goya de Puerto Rico, Sargento and Godiva Chocolatier.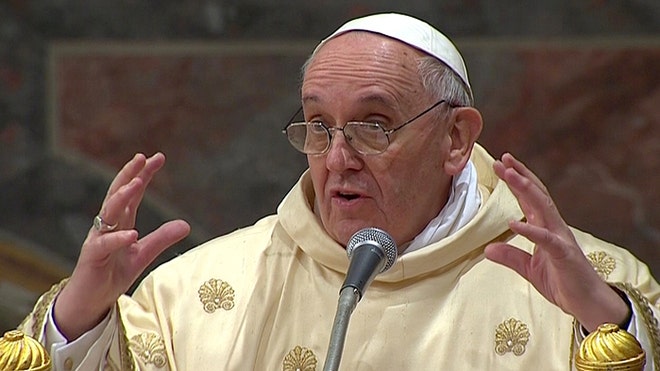 During the military dictatorship in Argentina, the new pope openly criticized liberation theology's combination of religious teachings and calls for social justice. When he was elevated to cardinal in Argentina, In 2010, he called the government's legalization of gay marriage "an attempt to destroy God's plan" and opposed adoption by gay couples. 
It's not the kind of Catholic conservatism that you're going to find in the United States, with this emphasis on the individual salvation… it's much more socially loaded. [Probably] the most important point of Horacio Verbitsky's work—is … [the] paradox between the kind of social conservatism and an opposition to social agenda that has been pretty successful during the last years is very important.
In Argentina 75% of people consider themselves Catholic. The last and most important decisions made by the Kirchner administration that Bergoglio opposed was the same marriage law—that is, matrimonio igualitario in Argentina, egalitarian marriage.
"
Here's what it is like: I'm married to and live with my best friend. We cook for one another, laugh hysterically together, and have tons of sex, the vast majority of which involves just we two. Occasionally, one or both of us might make out with or even go to bed with somebody else. When this happens, communication is clear, standard precautions are taken (you know, like the ones single people use), and a good time is generally had by all.
I have no doubt that we are committed to each other, because we're building a life together. Could he fall in love with somebody else? Sure, but our non-monogamous status doesn't have much of an effect on that fact. He could also decide to run away and join the circus. There are no guarantees in life.
I think the most bizarre thing about monogamy to me is how often sexual exclusivity serves as a proxy for a real commitment. "Yeah, we're together, I guess, because I'm not doing it with anybody else." And the illusion that a monogamous commitment somehow makes a relationship more secure seems upended by the disruptive, obsessive, guilt-ridden emotions a monogamous person feels when he or she is (inevitably) attracted to somebody other than his or her partner.
My tone tends to be somber and straightforward when I talk about this topic, mostly because I don't want to sound like I'm sensationalizing it. (Even though it's the fu-king best. Seriously.)
I've spoken to close friends who are sure monogamy is right for them, and I'm convinced they can pull it off, that they know what they're doing. But most people I talk to fear non-monogamy because they're afraid of their own insecurity, their own jealousy. And in truth there's a pretty strong non-attachment practice built into it. In all the ways society tells me I'm supposed to own my husband, the fact is I simply do not. Does it always feel super easy? No. But it always feels true. I believe that being open and honest is the best way to challenge negative stereotypes of unconventional marriages like mine.
I met my husband when I was 22. If I felt at the time that I would have to spend the rest of my life having sex with him and only him, I wouldn't have married him. I would've gone out into the world and gallivanted around until I felt like all the sex was out of my system, and I would've missed out on sharing my life with the best human being on planet Earth. But in our relationship, we don't have to get anything out of our systems. Our sex drives are allowed to stick around, to accompany us throughout life, to remain a part of our individual personalities as well as our relationship as a couple. So in that way, I guess we are on fire. But please, don't assume that we need to be doused.
"
—
Erin Judge (via liveyourbelief)
Yeah, that.
(via polycule)
How should your relationships look. However the fuck you want them to.
The most succinct yet personal explanation I've heard. 
(Source: letsgoheatnation, via all-my-radical-thoughts)
The Pentagon unveiled a new medal for those who kill people by remote control in a remarkable gesture of contempt for and defiance of human rights advocates.

US Defence Secretary Leon Panetta said the Distinguished Warfare Medal would recognise those who take part in high-tech killing far from the front line.

"Our military reserves its highest decorations for those who display gallantry and valour in actions where their lives are on the line," Mr Panetta said.

"But we should also have the ability to honour the extraordinary actions that make a true difference in combat operations."

The new medal ranks between the Bronze and Silver Stars.

Unlike other military awards, it does not require the soldier to perform a physical act that may put their life in danger.

The US has regularly faced sharp criticism over the death of civilians killed by the unmanned drones targeting funerals or hitting social gatherings in error.
(politico)
Roe v. Wade guaranteed abortion as a legal right across the country. A separate decision two decades later, Planned Parenthood v. Casey, guaranteed states' rights to limit access to abortion, so long as it did not pose an "undue burden" on the woman.
Only Oregon has not layered additional restrictions on top of the Roe decision. At the other end of the spectrum is Oklahoma: With 22 abortion restrictions. You can go here for an interactive version of the graphic.
—> The GOP refuse to acknowledge this issue as a 'war on women' but please remember the aggressive language they used during the last election around a woman in the workplace, 'forceable rape', pro life/choice, passing legislation that says a woman is pregnant 2 weeks before its possible… And, if your congressman voted against the Violence Against Women Act, what does that man support? etc. etc. etc.
New Hampshire, Wyoming and Nebraska are the latest states to introduce ALEC backed Ag-Gag laws aimed at preventing employees, journalists or activists from exposing illegal or unethical practices on factory farms. Lawmakers in 10 other states introduced similar bills in 2011-2012.  The laws passed in three of those states: Missouri, Iowa and Utah.  But consumer and animal-welfare activists prevented the laws from passing in Florida, Illinois, Indiana, Minnesota, Nebraska, New York and Tennessee.
In all, six states now have Ag-Gag laws, including North Dakota, Montana and Kansas, all of which passed the laws in 1990-1991, before the term "Ag-Gag" was coined.
Wyoming's HB 0126 is the perfect example of a direct link between an undercover investigation of a factory farm and the introduction of an Ag-Gag law. The bill was introduced after nine factory workers were charged with animal cruelty following an undercover investigation by the Humane Society of the United States. HSUS activists videotaped workers kicking live piglets, swinging them by their hind legs and beating and kicking mother pigs. State Rep. Sue Wallis and Senator Ogden Driskill introduced the bill which would make it a criminal act to carry out investigations that exposed the cruelty at Wyoming Premium Farms.
The idea behind the Animal and Ecological Terrorism Act is to make it illegal to "enter an animal or research facility to take pictures by photograph, video camera, or other or other means with the intent to commit criminal activities or defame the facility or its owner."
(Source: action4animals, via angryvegan)
Bodies are hairy. No matter the gender, your face will have hair and that is more than okay.
Your butthole is going to have some hair too. And maybe your nipples. And your tummy. And where ever else.
Stretch marks. Those are a thing. Everyone gets 'em. If you don't, you probably don't have skin.
Vaginas smell. Every vagina has a scent. Don't worry about it! (Unless something seems wrong, then go get it checked out! No need to feel embarrassed or ashamed.)
Vaginas come in all different shapes, sizes, colors, flavors. All are beautiful.
Penises come in all different shapes, sizes, colors, flavors. All are beautiful.
You don't need to shave anything if you don't want to. It's tooootally not mandatory. 
Sometimes people get butt acne. 
You can have a vagina and want short hair and think dresses are just the worst.
You can have a penis and want long hair and think dresses are just the best. 
You can wear whatever you want and style your hair however you want.
You can even think whatever the hell you want.
People might tell you that you are a girl because you have a vagina. People might tell you that you are a boy because you have a penis. People will tell you what your gender is. But in reality, you don't have to be that gender. You don't have to be either of those genders. 
You are what you are and it's just the worst thing if you try and hide that.
(via leisurelee)
Late last week, democracy scored two important victories over a Republican plan to rig future presidential elections by changing the way electoral votes are counted in several key blue states. Two Virginia Republican state senators spoke out against the plan, effectively killing it. And Florida House Speaker Will Weatherford (R) attacked the election-rigging scheme as trying to "change the rules of the game."

In Michigan, however, which is the bluest of the six blue states where the election-rigging plan has been discussed, state House Speaker Jase Bolger (R) appears quite open to rigging his state's electoral college votes to benefit Republicans.

In other words, Republican voters in Michigan are upset that Democrats win elections simply because there are more of them. And Bolger wants to fix that by giving the few Republicans more votes than the majority.
In 2012 Jase Bolger was involved in the recruitment of a phony Democrat, 22-year old Matt Mojzak, to run against then-Democratic Michigan state Rep. Roy Schmidt so that Schmidt would have no real opposition. In turn, Schmidt would switch his party affiliation to Republican immediately prior to the filing deadline, ensuring victory for now Republican Schmidt.
Grand Jury resister Kerry Cunneen gave an interview to Finn's Revolution radio show. Here is a rough transcript of the interview:
Question: What is anarchism and how did anarchists find themselves at May Day in Seattle?
Question: What was May 1, Seattle all about? Were there progressive groups involved? What was your involvement? Were you arrested or investigated? If so, how were you treated?
Question: Some people are appalled when property damage and injury occur in these kinds of events. What can you say regarding that?

Question: Kerry, you, Maddy, Matt & Kteeo are currently refusing to cooperate with a Grand Jury in Seattle which is investigating events which occurred during May Day protests last year. First, why do you think the government has subpoenaed you and has decided to pressure you to testify? And why are all of you refusing to appear?
I refuse to appear because I despise the state. They are working to undo
everything that Anarchists stand for. I refuse to help them on the principle
that prisons should be abolished. I refuse them because I am in complete
support of the crimes they are investigating. I refuse them with a visceral
hatred for the law and all of the lives they ruin. I am glad for the little bit of resistance I can provide in denying them information. I respect and admire Matt, Kteeo and Maddy for making the sacrifice that is involved in sitting for and undetermined jail sentence. I just am not personally willing to take a step in the direction of my own jail cell.
Question: Clearly the government is attempting to intimidate you and anarchists and activists in general. First by calling you to testify in a Grand Jury setting thereby trying to force you give up your right to remain silent which exists in standard judicial courts, and then by jailing some of you to wear you down. Can they legally keep any of you in jail indefinitely until you testify, and just how long do all of you think this can last? Can you talk about what legal actions are being taken on your behalf?
Question: Kerry, where can listeners find out more about all this, and what can they do to get involved and help?

People who pronounce it "VAYGUN".
Everyone you know is suddenly a nutrition expert.
The option at weddings is always grilled vegetables.
Getting trapped under your own logic.
Secretly finding jabs at vegans funny.
People saying "humans are 'meant' to be carnivores".
Hearing every time a friend learns something unexpected has animal product in it.
Being called a hypocrite if you feed your pet meat and crazy if your don't.
Other vegans.
The comment section for every article ever written about veganism. 
Thats fun, but I prefer compassionco's list…
The 12 Actual Most Annoying Things About Being Vegan.
Omnivores misinterpreting the 19 MATABV article.
When people say "You/I can't have that" vs " I/you choose not to have that".
Canine Teeth, argument.
Debating what is and isn't "natural" for humans.
Plants feel pain too.
When people take one culinary misstep as meaning that all vegan food is horrible.
"Vegans don't care about the workers that pick our vegetables".
Vegans who don't care about other forms of oppression.
Vegans who deny issues of food accessibility.
Being asked "so, what DO you eat?"
Being told "I don't really eat that much meat"
People thinking that veganism is a diet.