Obama nominated Judge Nitza I. Quiñones Alejandro and Judge Luis Felipe Restrepo, along with Judge Jeffrey L. Schmeh, to the United States District Court for the Eastern District of Pennsylvania.
If confirmed by the Senate, Judge Quiñones Alejandro would become the first gay Hispanic woman to serve on the federal bench, according to the Human Rights Campaign.
Asked about federal disaster relief to tornado and flood victims Mitt Romney called the spending "immoral" and said disaster relief efforts should be privatized. - 6/13/11
This isn't a one off. This is creed. New Jersey Governor Chris Christie, who's OF COURSE accepting federal disaster relief money, thinks government is wasteful, tax cuts are good, and austerity fucking rules. Where do these people think the for profit companies will get money from? US! We will still be paying for the same thing. And what if the city is bankrupt? Why would they show up to already disenfranchised communities?!
At least three times, Mitt Romney and Paul Ryan have publicly demanded that the federal government only disburse disaster relief funding if Congress agreed to offsetting budget cuts elsewhere. This would hold desperately-needed disaster relief funding hostage.
No United States President in history has had as many false and malicious rumors spread about him.  As part of an ongoing public service commitment by this website, we present the latest in our series of article debunking right-wing myths.

(More)
(Source: skepticalavenger)
In a Democracy Now interview Amy Goodman and Nermeen Shaikh talk to George Farah. He explains how the contract was revealed by Time's Mark Halperin who managed to get a copy of the contract and that it wasn't by virtue of the commission operating with transparency.
George Farah was on DN before talking about the Commission on Presidential Debates and how we came to this point in electoral politics.
Mike McCurry, the former press secretary to President Bill Clinton, and a co-chairs of the Commission on Presidential Debates repeatedly denied the very existence of this contract. When confronted the executive director of the commission, Janet Brown, about the existence of a contract that's dictating the terms of the debates, she said there is no such contract, the commission is not a party to it. Once some of the features of the contract started to come out, the commission said the contract is only about podium heights and temperatures in the auditoriums and whether the candidates can wear risers in their shoes, but denied that there was any substance.
Now that we're actually seeing the contract, we're seeing there are extraordinary restrictions preventing there from being more unpredictable questions. We're seeing the exclusion of all third-party voices according to the candidate selection criteria. And we're seeing the prohibition on additional debates…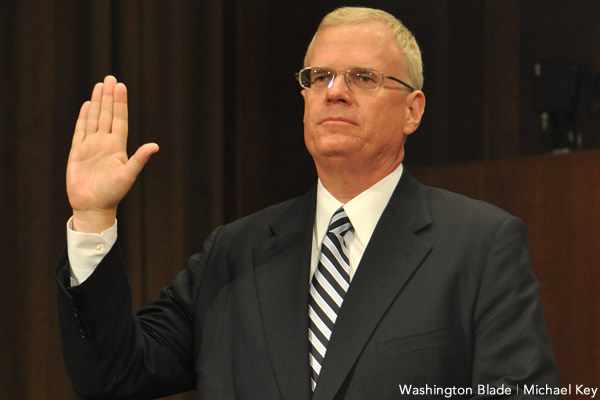 A fourth openly gay nominee—one who has been fairly heavily involved in both gay and non-gay legal and political issues and who spent "hundreds of hours" doing pro bono work that led to the elimination of a gay ban on FBI agents—has gone before the U.S. Senate Judiciary Committee. The nominee's gay-related history prompted the only Republican in attendance on his confirmation hearing to label the nominee an "activist."
"I am honored to nominate Michael Walter Fitzgerald to the United States District Court," Obama said in a statement. "His impressive career stands as a testament to his formidable intellect and integrity. I am confident he will serve the people of California with distinction on the District Court bench."


Obama has nominated more female, African American, Hispanic, Asian American, Native American and openly gay candidates as federal judges than Presidents George W. Bush, Bill Clinton, and George H.W. Bush. That includes two female Supreme Court justices, one of whom is the high court's only Hispanic justice.
The numbers are particularly striking for Asian-American nominees. Obama has nominated half of the Asian-American federal judges currently on the bench.
After being nominated July 2012 The Senate confirmed Michael W. Fitzgerald as a federal trial judge for the region stretching from San Luis Obispo to Orange counties in California
You can read more about Judge McShane in a bio published by Mike Bloom of the Multnomah Bar Association.
SO HAPPY ABOUT THIS! (and he went to school right here in Portland, Or.!)