Romney and Obama agree: the Boy Scouts should allow gay members.
Both could do more. Obama, for example, could resign as honorary president of the Boy Scouts. A former national board member of the Scouts, the Romney Campaign indicated he maintains the position he first made clear in 1994, but it would be cool if the man himself would make a statement to that effect.
Now the bad news… the Christians. Although is not only inaccurate and unfair, it can be harmful to those attacked by anti-LGBT, anti-Muslim, anti-immigrant, anti-anyone-not-like-me individuals and groups.
But when people like Bryan Fischer are the loudest Christian's the rest of the population need to stand up and take a stand or keep their mouth compliantly shut and be shamed for it. 
Fischer made GLAAD's Commentator Accountability Project list well before now, for multiple reasons, including:
"The homosexual agenda represents the single greatest modern threat to freedom of religion and conscience."
'… they [gay people] are Nazis … . They'll do the same thing to you that the Nazis did to their opponents in Nazi Germany."
'Islam is a totalitarian political ideology. It is as racist as the KKK. … Allowing a mosque to be built in town is fundamentally no different than granting a building permit to a KKK cultural center built in honor of some King Kleagle.'
- Fischer's bullying prevention plan: 'If We Want to See Fewer Students Commit Suicide, We Want Fewer Homosexual Students'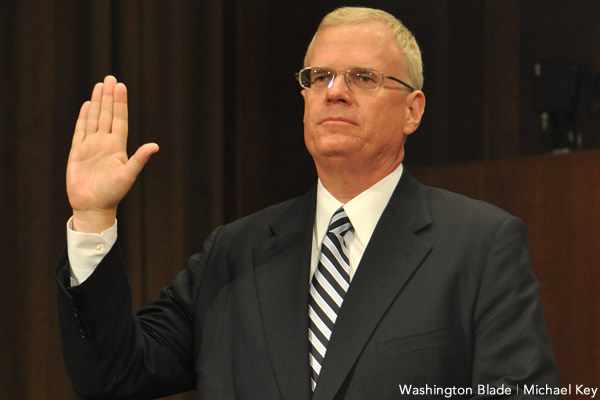 A fourth openly gay nominee—one who has been fairly heavily involved in both gay and non-gay legal and political issues and who spent "hundreds of hours" doing pro bono work that led to the elimination of a gay ban on FBI agents—has gone before the U.S. Senate Judiciary Committee. The nominee's gay-related history prompted the only Republican in attendance on his confirmation hearing to label the nominee an "activist."
"I am honored to nominate Michael Walter Fitzgerald to the United States District Court," Obama said in a statement. "His impressive career stands as a testament to his formidable intellect and integrity. I am confident he will serve the people of California with distinction on the District Court bench."


Obama has nominated more female, African American, Hispanic, Asian American, Native American and openly gay candidates as federal judges than Presidents George W. Bush, Bill Clinton, and George H.W. Bush. That includes two female Supreme Court justices, one of whom is the high court's only Hispanic justice.
The numbers are particularly striking for Asian-American nominees. Obama has nominated half of the Asian-American federal judges currently on the bench.
After being nominated July 2012 The Senate confirmed Michael W. Fitzgerald as a federal trial judge for the region stretching from San Luis Obispo to Orange counties in California
You can read more about Judge McShane in a bio published by Mike Bloom of the Multnomah Bar Association.
SO HAPPY ABOUT THIS! (and he went to school right here in Portland, Or.!)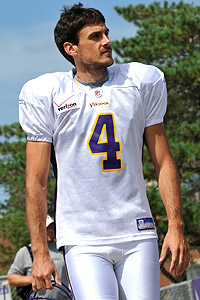 Baltimore Ravens linebacker Brendon Ayanbadejo has spoken out in favor of a Maryland ballot initiative that would legalize gay marriage. Yahoo has published a letter that Maryland state delegate Emmett C. Burns Jr. wrote last week to Ravens owner Steve Bisciotti, urging him to "inhibit such expressions from your employee." This is Minnesota Vikings punter Chris Kluwe's response to Burns.
(Click through for the whole article - I've edited the letter down here!)
1. By using your position as an elected official (when referring to your constituents so as to implicitly threaten the Ravens organization) to state that the Ravens should "inhibit such expressions from your employees," more specifically Brendon Ayanbadejo, not only are you clearly violating the First Amendment, you also come across as a narcissistic fromunda stain.
2. "Many of your fans are opposed to such a view and feel it has no place in a sport that is strictly for pride, entertainment, and excitement." Holy fucking shitballs. Did you seriously just say that,
3. Why do you hate the fact that other people want a chance to live their lives and be happy, even though they may believe in something different than you, or act different than you?
I can assure you that gay people getting married will have zero effect on your life. They won't magically turn you into a lustful cockmonster. They won't even overthrow the government because all of a sudden they have the same legal rights as the other 90 percent of our population—rights like Social Security benefits, child care tax credits, Family and Medical Leave to take care of loved ones, and COBRA healthcare for spouses and children. You know what having these rights will make gays? Full-fledged American citizens just like everyone else, with the freedom to pursue happiness and all that entails.
I hope this letter, in some small way, causes you to reflect upon the magnitude of the colossal foot in mouth clusterfuck you so brazenly unleashed on a man whose only crime was speaking out for something he believed in. Best of luck in the next election; I'm fairly certain you might need it.
Dr. Mark Craddock an Australian doctor and a member of the Exclusive Brethren Christian Fellowship sect has been banned from practicing medicine after he prescribed an 18-year-old man who was also part of the sect with a chemical castration drug after he came out as gay.
In a letter to the NSW Health Care Complaints Commission, the unnamed man, who is now 24, said that when he came out as gay, a church leader told him "there's medication you can go on." He continued, "He recommended that I speak to Dr Craddock on the matter with a view to my being placed on medication to help me with my 'problem',"
The teen went to visit the 75-year-old doctor who prescribed him a "gay cure": the anti-androgen therapy cyproterone acetate, brand name Cyprostat, along with five repeats, according to ninemsn. He said the doctor did not refer him to a psychologist or discuss the drug's side effects.
Cyprostat is a form of hormone therapy used to treat prostate cancer. Hormone suppressants have been used to "chemically castrate" sex offenders, the Guardian notes.
The Medical Council of the Australian State of New South Wales determined, "Dr Craddock failed to adequately assess the patient and failed to provide appropriate medical management of the patients therapeutic needs," in an excerpt by Gay Star News. The committee found that Craddock was guilty of "unsatisfactory processional conduct. He was severely reprimanded and practice restrictions were placed on his registration."
There are more than 40,000 Exclusive Brethren around the world. They "believe strongly in the traditional family unit. Marriage is held in the greatest [honor], as one of God's original thoughts of blessing for the human race."
Other doctors have taken dangerous steps in an attempt to "cure" homosexuality. In 2010, Dr. Maria New of New York City's Mount Sinai was reportedly experimenting with injecting fetuses with steroids to potentially make girls "more feminine" and reduce odds they turn out gay, the Oregonian reported at the time.
The American Psychiatric Association has condemned the "treatment" of homosexuality. So has GLAAD saying, "The potential risks of 'reparative therapy' are great, including depression, anxiety and self-destructive behavior, since therapist alignment with societal prejudices against homosexuality may reinforce self-hatred already experienced by the patient."
Activists have championed against "gay cures" in the United Kingdom, which includes Conversion Therapy. Last year, Apple pulled Exodus International's "Gay Cure" app from its collection.
P-Club Bar and Grill in north Portland, Ore owner said Cassandra Lynn and her friends couldn't come there anymore because they are transgender.
"Unfortunately, due to circumstances beyond my control, I'm going to have to ask for you, Cass and your group, not to come back on Friday nights," owner Chris Penner says in the voice mail, which Lynn and her friend Victoria Nolan played during an interview with Fox 12.
Penner is now under investigation by the Oregon Bureau of Labor and Industries after Lynn filed a discrimination complaint against him last month.
Supporters of Proposition 8, California's constitutional amendment banning same-sex marriage, are facing fines proposed by the enforcement staff of the state Fair Political Practices Commission against the campaign committee ProtectMarriage.com for failing to properly file public reports disclosing late contributions and contributions over $5,000, as well as failing to properly dispose of an anonymous $10,000 contribution. More than $1 million in contributions were not properly reported. The campaign committee faces 18 counts of violating state campaign finance laws.