In 1994, Congress enacted the Violence Against Women Act with broad bi-partisan support. It has been renewed several times since then, except for 2012. If VAWA is NOT reauthorized, then important funding for battered women shelters and to aid in prosecution of domestic violence and sex-based crimes will be lost! Contact your representative ASAP to speak out. Go to www.4vawa.org for more info.
Please take a few minutes on that day to call your Senators and Representatives.
Use this number 888.269.5702 to connect to the Capitol switchboard.  Then ask to be connect to you U.S. Representative (www.house.gov) or Senator (www.senate.gov).
Tell them:  "I am your constituent.  Now that the elections are over, I urge you to reauthorize the Violence Against Women Act (VAWA)!
@[INSERT YOUR REP'S TWITTER HANDLE] #PassVAWA2012

In case you wanted a dose of CRAZY check out these Ya-Ho's. I guess the problem with making violence illegal is sometimes American men marry women from other countries and after the nuptials the woman objects to being abused. Now bing-bang-boom SHE'S unfairly American.

The possibility that Golden Dawn could capture second place in a snap election is slim but real.
"We were dozens, then a few hundred. Now we're thousands and it's only the beginning," cried the leader of Golden Dawn, a far-right party that is seeing its support soar amid Greece's economic collapse.
Riding a wave of public anger at corrupt politicians, austerity and illegal immigration, Golden Dawn has seen its popularity double in a few months. VPRC put the party's support at 14 % in October, compared with 7 % in June.
"Golden Dawn's target is simple. We want the absolute majority in parliament so we can replace the constitution with our own," Kasidiaris told the crowd. "It will then be easy to immediately arrest and deport all illegal immigrants."
Many migrants come from Asia and Africa, mainly through Greece's porous border with Turkey, to find themselves trapped in Greece by EU rules that return them only to their point of entry. With more than 1 million foreign nationals in Greece, a country of 11 million people, tensions wont ease any time soon. And while the government regularly rounds up thousands of immigrants, only a few hundred are sent to specially-built detention centers. Aid groups say they are often forced into crime to survive.

Ultimately, the Golden Dawn lacks the broad appeal and structure needed to gain mass traction. In World War Two Greece suffered massacres and famine in its fight against the Nazis, and the spectre of the 1967-1974 military junta still hangs heavy over its modern politics. So why are many Greeks now turning to a party whose emblems and rhetoric, critics say, resemble Hitler's?
A lawmaker and spokesman, explained the party's appeal. "Golden Dawn is the only institution in this country that works. Everything else has stopped working or is partially working… We operate like a well-organized army unit, because the military is the best institution in any country."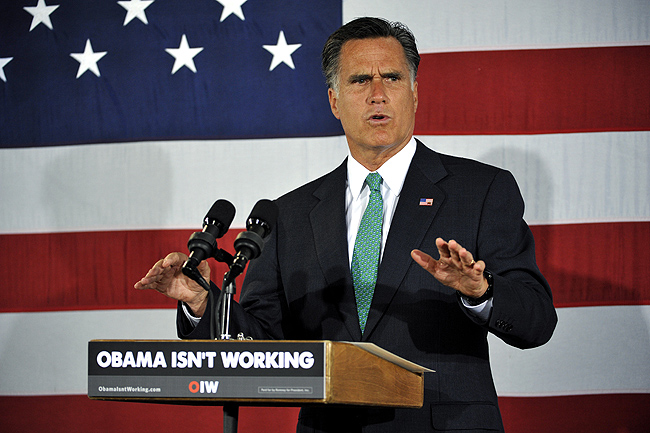 I'm guessing because telling a room full Latinos who come from immigrant backgrounds that he's strictly against the Dream Act, against an amnesty, and that he think that Arizona's draconian and unconstitutional immigration laws are "a model for the nation", along with mentioning his many other anti-immigration stances, is really bad for business.
(via truth-has-a-liberal-bias)