In Eric Cantor's February 2013 speech, he said he wanted to propose Federal Law that would end overtime pay for hourly workers.  Currently, the Fair Labor Standards Act of 1938 (FLSA), signed into law by President Franklin D. Roosevelt, mandates that certain workers get paid "time + 1/2″ for overtime work.  Eric Cantor wants to eliminate that law.
Cantor says its a policy that would allow workers to convert overtime compensation into time off. "I gave a talk today about helping people and about finally focusing on legislation that has understandable benefits right away," He explained that it would help parents who wanted to go on a field trip or attend a teacher conference.
The GOP tried to do the same thing in 2003 in House Bill: HR 1119 "Family Time Flexibility Act"
(Source: aka14kgold, via reagan-was-a-horrible-president)
The bipartisan proposal "ends Too Big To Fail subsidies or funding advantages for Wall Street mega-banks with more than $500 billion in assets."
In order to stop the financial bleeding, the U.S. government voted to rescue the big banks rather than allow them to fail and take our economy with them. Ever since, big banks have only gotten bigger on the premise that if they fail again, the government will bail them out.
But an amendment was offered as an attachment to the Senate budget bill and it received unanimous support; 99-0. The U.S. Senate voted to strip "too big to fail" banks of the taxpayer subsidies.
Two reports indicate that the banks were rolling in taxpayer dollars that they didn't need. In February, Bloomberg News reported that the banks made an estimated $83 billion a year. But that number could be even higher. In March top banking analyst, Chris Whalen estimated that big banks rake in more than $780 billion of government subsidies every year. Banks have been making trillions of dollars over the last few years even though they didn't need the money.
Now it falls to the House Republicans to approve the bill and send it to the President. Considering the conservative obsession with forcing the Ryan Budget upon America, passage of the Senate bill looks grim. Now would the time for everyone to get on the phone with their representative in Congress to demand passage of the Senate budget.
Four years ago, as the recession took hold and layoffs around the country were approaching 500,000 a month, a group of workers in Chicago saved a factory and inspired a nation. Fired by their boss, they occupied instead of leaving. Fired by a second boss, they occupied and formed a worker's cooperative. Now they are worker-owners of a load of equipment and they're setting up a factory in a new location.  
Today the top 100 U.S. co-ops make over $150 billion in sales each year. Areas of recent growth include natural food groceries, purchasing cooperatives, credit unions, and worker cooperatives.
Instead of negotiate with the boss a handful of American unions are cutting the boss out of the equation. An example is the United Steelworkers union (USW) in collaboration with the Basque Mondragon Corporation.
In the Basque region of Spain Mondragon employs 83,000 workers in 256 companies. About half of those companies are cooperatives, and about a third of Mondragon's employees are co-op members with an ownership stake in their workplace. With billions of euros in annual sales, Mondragon is the largest industrial conglomerate in the Basque region and the fifth-largest in Spain.
The cooperatives use workers' cash investments as part of the capital needed to finance new projects, and members get to vote on strategy, management, and business planning. The highest-paid managers' salaries are capped at six to eight times what the lowest-paid workers make. In the United States CEOs now make 380 times more than the average worker.
Stripped to essentials, the fiscal cliff is a device constructed to force a rollback of Social Security, Medicare and Medicaid, as the price of avoiding tax increases and disruptive cuts in federal civilian programs and in the military. It was policy-making by hostage-taking, timed for the lame duck session, a contrived crisis, the plain idea now unfolding was to force a stampede.
First, is there a looming crisis of debt or deficits, such that sacrifices in general are necessary?  No.

Second, is there a looming crisis of Social Security, Medicare and Medicaid, such that these programs must be reformed?  No.

Third,  would the military sequestration programmed to start in January be a disaster?  No.

Fourth, would the upper-end tax increases programmed to take effect in January be a disaster?  No.

Fifth, would the middle-class tax increases, end of unemployment insurance and the abrupt end of the payroll tax holiday programmed for the end of January risk cutting into the main lines of consumer spending, business profits and economic growth?  Yes.

Sixth, what about all the other cuts in discretionary federal spending? Yes.
(Source: azspot, via reagan-was-a-horrible-president)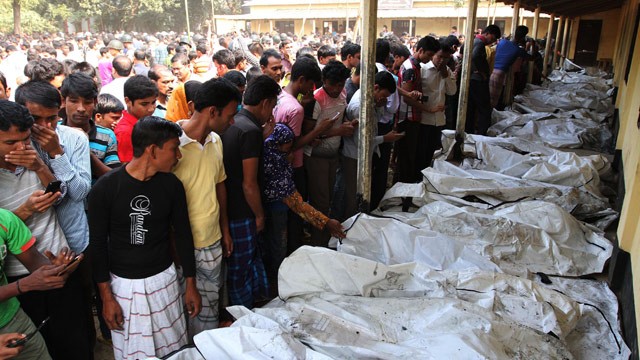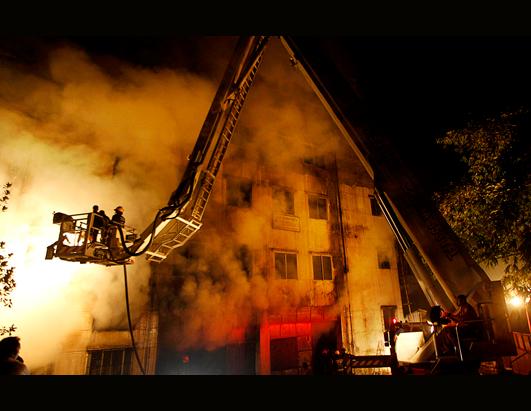 The factory fire has had little effect on American shoppers.
The Bangladeshi factory made clothes for Disney, Sears, Sean Combs' Enyce and other labels.
Walmart told the paper it had already planned to sever ties with the factory before the fire, because it knew of the potential dangers, and that a supplier continued to use the plant without authorization.
Survivors of the Saturday blaze at the Tazreen Fashions Ltd. factory said emergency exits were nonexistent, fire extinguishers didn't work, and supervisors ordered employees to keep sewing even as alarms rang out out, according to reports.
SumOfUs.org has gathered more than 85,000 signatures on a petition demanding Walmart join an independent fire safety inspection program.
3 managers arrested after deadly Bangladesh factory fire.
"Our production manager … pulled down the collapsible gate on the third floor, forcing us to continue working," the witness said, "We pleaded with him to let us out, but [he] assured us that nothing was wrong and we should keep working … He told us not to listen to any rumors. He said again, 'Nothing has happened, just keep working.'"
Bangladesh factory owner: I didn't know fire exits were needed.
The owner of a Bangladesh clothing factory tells how far removed the leaders of the nation's garment industry are from issues of worker safety.
"It was my fault. But nobody told me that there was no emergency exit, which could be made accessible from outside … Nobody even advised me to install one like that, apart from the existing ones. I could have done it. But nobody ever suggested that I do it," said Hossain.
Clearly violating the First Amendment, the law first surfaced in 2006. Since then the law, its sponsor Tom Riner (a practicing Baptist minister and the long-time Democratic state rep.), and the Kentucky state Supreme Court have refused to review the constitutionality of what became a 2008 homeland security law.
Currently everyone in Kentucky is potentially forced to assert that the safety of their state is dependent on "Almighty God" or face criminal charges, including up to 12 months in jail.
On November 13, 2012, American Atheists' National Legal Director Edwin Kagin submitted a petition to the U.S. Supreme Court (SCOTUS). American Atheists is asking SCOTUS to review the Kentucky Homeland Security law. The Circuit Court level ruled the law violated the First Amendment, but was reversed by the Kentucky state Court of Appeals.
The Kentucky Supreme Court refused to hear a motion for discretionary review to a state law that makes it mandatory that the Commonwealth and its citizens give credit to Almighty God for its safety and security.  This request was denied in a single line that said that "The safety and security of the Commonwealth cannot be achieved apart from reliance upon Almighty God as set forth in the public speeches and proclamations of American Presidents, including Abraham Lincoln's historic March 30, 1863, presidential proclamation urging Americans to pray and fast during one of the most dangerous hours in American history, and the text of President John F. Kennedy's November 22, 1963, national security speech which concluded: "For as was written long ago: 'Except the Lord keep the city, the watchman waketh but in vain.'"
You should also know…
Tom Riner is devoted to his faith even when that directly conflicts with his job as state rep. He has often been at the center of unconstitutional and expensive controversies throughout his 26 years in office. In the last ten years, Kentucky has spent more than $160,000 in string of losing court cases against the American Civil Liberties Union over the state's decision to display the Ten Commandments in public buildings, legislation that Riner sponsored. One case went to the U.S. Supreme Court, which ruled in 2005 that such displays inside courthouses in two counties were unconstitutional.
To go further…
Abraham Lincoln's views on religion were complicated, growing up in a highly religious family, but never joining any church.
Kennedy's Roman Catholic faith would allow him to make important national decisions as president independent of the church. 
And even more info on American Atheist vs. Kentucky Homeland Security.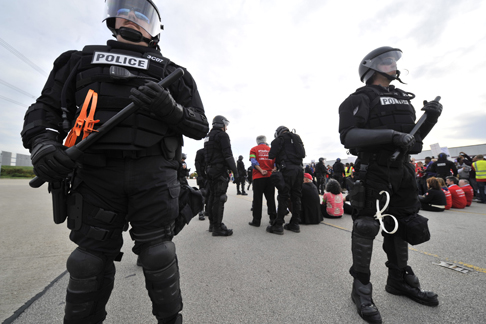 This is what capitalism looks like.
After all but being shut out of the GOP conventions…
GEORGE TOWN, Cayman Islands (AP) —
Organizers say they have been forbidden from disclosing any details about former President George W. Bush (the keynote speaker) in the offshore financial haven.
The even is "totally closed to all journalists" and conference organizers are forbidden from discussing any aspect of it even in general terms, spokesman Dan Kneipp said.
The restrictions were imposed by the former president's staff. Bush's $4000 two-day conference include KPMG, a company that provides tax advisory services, and Deutsche Bank. Other speakers include billionaire Richard Branson at The Ritz-Carlton on Grand Cayman Island.
"It's totally their decision," Kneipp said of the decision to close the event to the media. But members of the U.S. Congress and advocates for changes in tax laws have accused corporations and wealthy individuals of using so-called financial havens to improperly avoid taxes.
You may be surprised to learn that your choice of cell phone isn't neutral. For example, did you know that AT&T and Verizon Wireless have contributed to right-wing politicians working against your values? CREDO has supported progressive causes for more than 27 years, through automatic donations from members and citizen-activism programs. Since 1985 they raised more than $70 million for nonprofit groups like Earthjustice, Doctors Without Borders, Planned Parenthood, the ACLU, Democracy Now!, and Color of Change.
So if you stand for progressive beliefs, join the only phone company that stands with you.
—> I think this is so cool. Click on the image for the interactive version that gives you more information on how much and who the money is going to. Remember, most corporations donate money to BOTH sides, and cell carriers are no different. It's smart to have someone always on the inside. But CREDO only donates to truly progressive causes! Awesome.