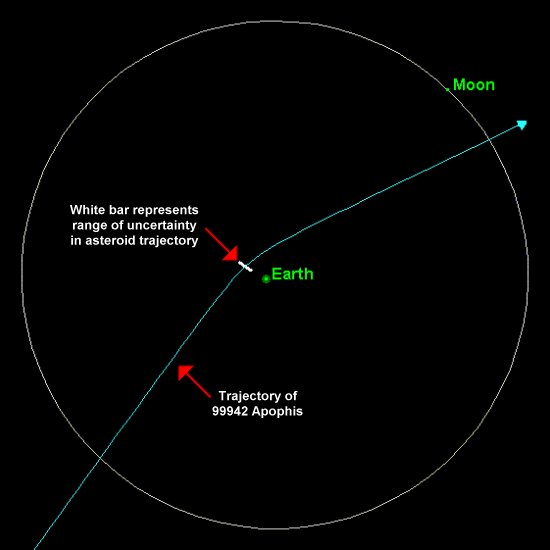 This asteroid has 1 in 45,000 odds of hitting earth in 2036 and is appropriately named after an evil god in ancient Egyptian religion, the deification of darkness and chaos… Apophis.
Unlike in summer blockbusters we will not want to blow this asteroid into little bits to avoid this go around because it will be back, and next time, if we blow it up, it'll have lots of little sizable bits to hit us with rather than a big chunk of space.
Science is pretty cool.
It might be time to get Gattaca-level paranoid about leaving your DNA all over the place, as geneticists are getting closer to being able to determine what your face looks like simply by analyzing your genetic code.
Dr. Mark Craddock an Australian doctor and a member of the Exclusive Brethren Christian Fellowship sect has been banned from practicing medicine after he prescribed an 18-year-old man who was also part of the sect with a chemical castration drug after he came out as gay.
In a letter to the NSW Health Care Complaints Commission, the unnamed man, who is now 24, said that when he came out as gay, a church leader told him "there's medication you can go on." He continued, "He recommended that I speak to Dr Craddock on the matter with a view to my being placed on medication to help me with my 'problem',"
The teen went to visit the 75-year-old doctor who prescribed him a "gay cure": the anti-androgen therapy cyproterone acetate, brand name Cyprostat, along with five repeats, according to ninemsn. He said the doctor did not refer him to a psychologist or discuss the drug's side effects.
Cyprostat is a form of hormone therapy used to treat prostate cancer. Hormone suppressants have been used to "chemically castrate" sex offenders, the Guardian notes.
The Medical Council of the Australian State of New South Wales determined, "Dr Craddock failed to adequately assess the patient and failed to provide appropriate medical management of the patients therapeutic needs," in an excerpt by Gay Star News. The committee found that Craddock was guilty of "unsatisfactory processional conduct. He was severely reprimanded and practice restrictions were placed on his registration."
There are more than 40,000 Exclusive Brethren around the world. They "believe strongly in the traditional family unit. Marriage is held in the greatest [honor], as one of God's original thoughts of blessing for the human race."
Other doctors have taken dangerous steps in an attempt to "cure" homosexuality. In 2010, Dr. Maria New of New York City's Mount Sinai was reportedly experimenting with injecting fetuses with steroids to potentially make girls "more feminine" and reduce odds they turn out gay, the Oregonian reported at the time.
The American Psychiatric Association has condemned the "treatment" of homosexuality. So has GLAAD saying, "The potential risks of 'reparative therapy' are great, including depression, anxiety and self-destructive behavior, since therapist alignment with societal prejudices against homosexuality may reinforce self-hatred already experienced by the patient."
Activists have championed against "gay cures" in the United Kingdom, which includes Conversion Therapy. Last year, Apple pulled Exodus International's "Gay Cure" app from its collection.
British biotechnology company Oxitec Ltd is trying to convince the locals in Key West to use genetically modified mosquitoes in their fight to eradicate dengue fever in the area. What could possibly go wrong?
The nutrient-rich plant grows so rapidly it can double its mass in a few days. Possible uses include salad, soup, and even burgers. In addition to food, azolla may have uses in sustainable agriculture and biofuel. Currently its being looked at for space travel.
Swedish artist Erik Sjödin
"Though Azolla is nutrient rich, it is a fern that lives in symbiosis with a cyanobacteria and it is still unclear how healthy it for humans to eat it. It could be really healthy but it could also not be. Azolla is commonly used as animal fodder but no studies have been done on humans."

[It] "has a crisp texture, smells a bit like moss and has a slightly tart taste, that is somehow earthy and reminiscent of forest."
If you want to try azolla for yourself, check garden centers and aquatic stores but "be careful where you plant it and don't let it loose in the wild," Sjödin cautions. The USDA lists azolla as weedy or invasive in many states.